Architecture and Migration
Architecture is the product of culture, and it is designed for culture. As natural problem solvers, architects usually seek to design spaces suitable for the current age and the people who will use them. They don't just design sturdy buildings; they create an environment that people can benefit from in the present and the future in different ways. It's all about the big picture.
Each architect has their architectural style within the context of the present culture. However, in developing times, the current situation is no longer limited to a single aesthetic but more focused on balancing beauty and service. It's about the way the building responds to the needs of the user.
To adapt to people's needs in different regions, architects have taken on flying to foreign countries, which has led to globalization development. The BMW Welt in Germany, China's Guangzhou Opera House, and the City of Arts and Sciences in Valencia, Spain, are all impressive. Still, they all seem to be of the same architectural style, despite existing in different countries with widely different cultures.
My interview aims to figure out the effect the architects' migration has on local architectural style and culture. Interviews were conducted with architects working in a foreign country. How architect would mix different cultures perfectly, and if there any difficulties in working in a foreign country facing a different culture? With architects' mobility and the development of globalization, would architects fear that architectures worldwide gradually lose their local cultural identity? These questions will be answered in the form of interviews.
---
Professor Renato Russi: Working as an architect from Italy to China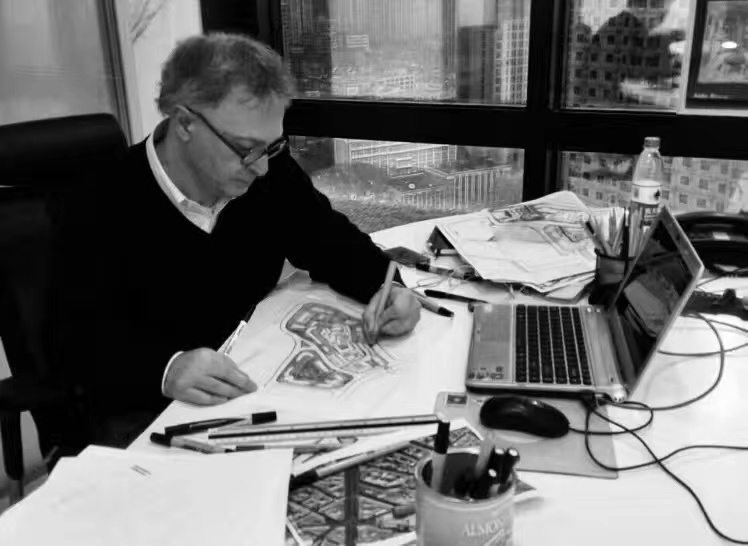 Renato Russi doing his sketch works. (Courtesy of Renato Russi)
Professor Renato Russi, a famous Italian Architect acquired his degree at  University Institute of Architecture Venice (IUAV) in 1988, in Italy. After that he did 3 years of specialization course in History of Art among Ca' Foscari University of Venice, University of Udine, and University of Trieste. He also took a speicialization in High Technology in University of Bath. He has had his own ARR- INTERNATIONAL studio in Venice, Italy since 1991. In 1999, he had his first trip in China and decided to register his first company in Aisa in Hongkong, China, in 2001. Three years later, he registered WOFE (Wholly foreign-owned enterprise) company in Shanghai in 2004. He is also visiting professor of Tongji Zhejiang College in China, University of Venice, Italy, and some other Lectio magistralis at University "Aldo Rossi" in Ravenna, Italy.
Sabrina Li, impactmania and AD&A Museum intern studies at University of California, Santa Barbara (UCSB) with the History of Art and Architecture major. After speaking with Renato Russi, she forms a basic idea about the effect the architects' migration has on local architectural style and culture. As a native of China, she interviewed Renato with her own perspective and curiosity. Not only did Renato share his own life experience with her, he also gave Sabrina a lesson in architecture.
Read the full article here: Migration Streams - Renato Russi on Chinese Architecture